MINITECNO
Semi-automated Clinical Chemistry Analyser

Sophisticated & Smart Mini
Performs Endpoint, Kinetic, Fixed Time, Multi-standard.
Open system for user-defined programs.
Touch screen with integrated alphanumeric keyboard.
Multi-language capability, up to 6 different languages (including Chinese characters).
200 programmable tests.
Intelligent work list management.
Patient archive.
1000 results storing capability.
Connection to PC.
Patient name length 16 characters.
Sample repetition.
Each test handles 3 different QC values (Quality Control).
Built-in six position incubation block.
Integrated pump and flow cell.
Internal pre-adjusted Peltier element at 25°-30°C, 37°C.
Personalisable aspiration features.
16 different QC values storage.
25 QC archives with 100 results.
Results shown on graphic display and printed on paper by built-in printer.

12 months warranty.
Minitecno Instrument Code

MINI

Graphic display

320 x 240 (1/4 of VGA)

Patient name length

16 characters

Max test storage

1000 tests

External interface

PS2 external keyboard (connection on rear side of instrument) RS232

Light source

Halogen lamp –12V, 20W

Photo detector

Silicon based (range 300-1000 nm)

Wavelength

340nm - 700nm

Wavelength selection

Automatic via 8-position filter wheel

6 standard interference filters

340nm, 405nm, 505nm, 546nm, 578nm, 630nm
Two free positions for optional filters

Photometric range

0 - 2.5 O.D

Temperature control

Peltier elements, 25°C-30°C and 37°C

Flow cell system

32μl flow cell with 10mm light path, interchangeable with
disposable macro, semi-micro, or special optical glass cuvettes

Reading time

1 - 999 seconds

Incubation time

5 - 999 seconds

Reaction volume

500 μL per test

Printer

Graphic, 24 characters per line

Printing sort

Batch, profile, QC print, Levy Jennings graph curves, Westgard rules

Dimensions

42 (L) x 38 (W) x 25 (H) cm

Weight

Kg 11

Power supply

110/220 AC 50-60 Hz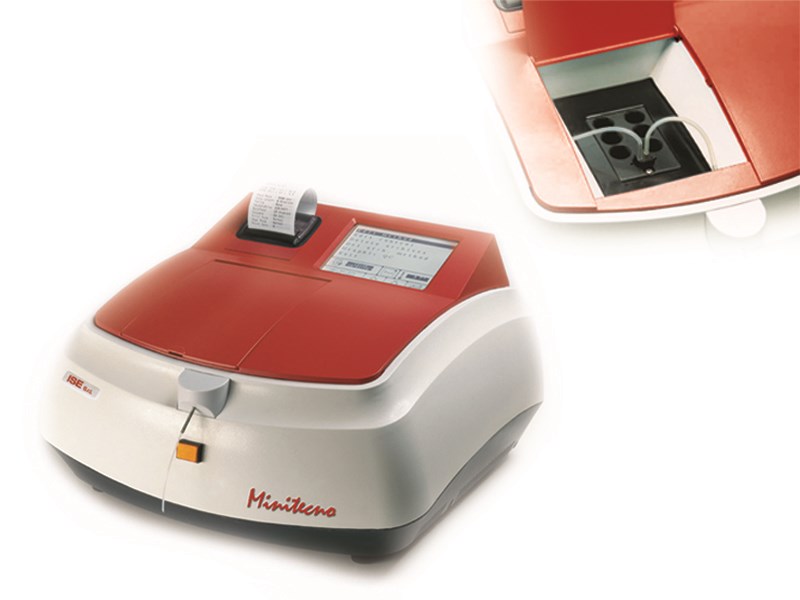 Flow cell and disposable cell with external built in incubator makes the Minitecno extremely flexible.
Perform end point, kinetic, fixed time, bichromatic, multistandard methods. All the methods are fully programmable by the user.
Built in touch screen with alphanumeric keyboard. 
Multilanguage capability, up to 6 different languages on board.
On board printer allows the user to print the graphical plot of all measured points.
Minitecno is 100% developed and produced in Italy.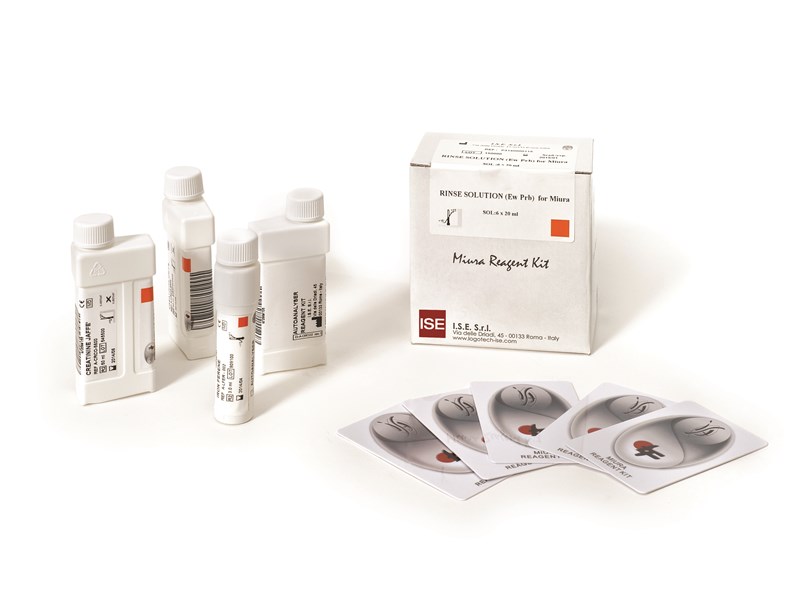 Dedicated Reagents
ISE simplifies your routine work with a complete CE-IVD marked reagent panel and ensuring you a fast forward daily routine in your laboratory:
Ready to use 56 assays:

28 enzymatic and substrate parameters

28 plasma proteins

Stable formulations based on IFCC & DGKC recommendations for serum, plasma, urine samples

ISE analysers are well prepared for integrated  ISE analysis of electrolytes

All applications are validated on analysers – a perfect fit!